Professional Teeth Whitening | Albany, NY
Has your smile become a little lackluster? Unfortunately, this is often just a normal part of getting older. If you are someone who can't say no to their morning coffee or loves to unwind with a glass (or two) of red wine after a long workday, even these seemingly innocent habits can cause teeth to yellow and dull over time; fortunately, the cosmetic dentistry team at Rose Dental Associates knows how to brighten your smile quickly so that no one will ever know that you indulge in those stain-producing foods and drinks.
Our dentists have been providing cosmetic dentistry to the Albany, NY, area for over 30 years and his practice has become synonymous with trustworthy and passionate family dentistry. We believe that everyone should have a beautiful smile and that it doesn't have to be difficult to achieve. If you are dealing with yellowing teeth and other dental stains, our expert dental team is here to get your smile significantly brighter.
Why Choose Professional Teeth Whitening?
Professional teeth whitening from Rose Dental Associates is unlike anything you can get over-the-counter. While there are DIY whitening remedies and at-home whitening kits in the oral care aisle of the grocery store, only professional in-office teeth whitening can get your smile several shades whiter and remove tough stains from the deeper layers of your teeth in just one hour.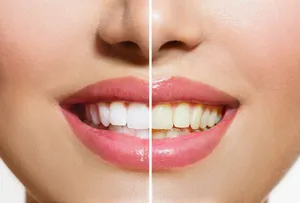 Most healthy individuals in Albany can benefit from getting in-office whitening. No matter whether you have a wedding coming up, a big event, or you just want to feel more confident in your appearance, our dental team is here to meet your needs through teeth whitening.
The Process of Teeth Whitening
The professional-grade whitening gel we use also contains the highest percentage of active whitening ingredient possible, ensuring that when you leave our dental office that your smile is free of stains and is actually multiple shades whiter. If you are dealing with stains caused by aging, smoking or the foods and drinks you consume, then you could be an ideal candidate for our whitening system.
The process is painless and only takes about one hour to complete. During the whitening process, we will paint the gel over the front of your teeth and leave it for several minutes at a time, after which we will remove the gel and apply another layer. These multiple applications guarantee that stubborn dental stains are gone and that what you are left with is a radiant smile.
Looking to Brighten your smile? Schedule a professional Teeth Whitening appointment with Rose Dental Associates. Call our Albany, NY dental office at (518) 456-7673 for more information or to setup a visit. Call today!